Black-ish Star Marsai Martin Fires Agent for Suggesting She "Just Chill"
Black-ish star Marsai Martin is making major moves at a young age. Born August 14, 2004 in Plano, Texas, the American actress/singer is well known for her role as "Dianne Johnson" on the comedy series show 'Black-ish. At age 5 Martin landed her first national commercial before moving to Los Angeles in 2013. The following year Martin was casted opposite Anthony Anderson and Tracee Ellis Ross in the ABC comedy series "Black-Ish" created by writer Kenya Barris. For Martins breakthrough role she has won two NAACP Image Awards, a Young Artist Award and two Screen Gold Awards for Outstanding Performance in a Comedy Series.
In 2016, Martin made her film debut by playing the leading role in the Amazon Studios
original film, "An American Girl Story", where she played the role of a 10-year-old girl by the name of 'Melody'. As some may or may not know, 'An American Girl Story', was strictly about love, courage, and girl power! Since then, Martin has yet to take a break, some say she's moving to fast and should slow down.
Martin doesn't take that advice too lightly!
Recently, Marsai stated in an interview that she had to get rid of her previous agent that suggested she "just chill" and "take a break" during the hiatus of Black-ish, instead of working on new projects. Being that Martin is trying to become dominant in her acting career, taking a break is the last thing on her mind. While expressing her concerns as a young actor in the Entertainment industry, Martin also stated in an interview that despite her status as a "Hollywood power player", there's one thing she envies about "regular kids".
"They get to walk around and no one recognizes them."
Being that Martin became a well known star at such a young age, the things that she experiences are much different from kids her age. It's safe to say it's okay to want to do simple things such as taking trips to Walmart or Dollar Tree without being bogged down by reporters and fans all the time.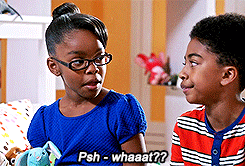 Nevertheless, it appears being told to "just chill" was an even bigger push of motivation for her to keep on perfecting her craft! In 2018, Martin was cast in her first studio feature film "Little". Although, the film is based off of an idea Marsai came up with, she had a team of workers that came up with ideas to add to the film to support her vision. Directed by Tina Gordon ("Peeples"), the plot focuses on an adult woman that gets the chance to relive her carefree youth after pressures of adulthood overwhelm her. Not only is Marsai staring in the film, at the age of 13 she is set to become the Executive Producer as well.
When Marsai opened up about her career goals and dreams in an interview with Los Angeles Times, she stated, "I can see myself directing, writing and doing my own tv show and movies".
Masai has her dreams and goals on lock! How many 13-year-old Executive Producers do you know?
Marsai is really killing it! There's so much more success to be expected out of this young star; with her driven, ambitious, spontaneous, 'go get it' personality this young producer is destined for greatness!