Michelle Obama As The Most Admired Woman In The World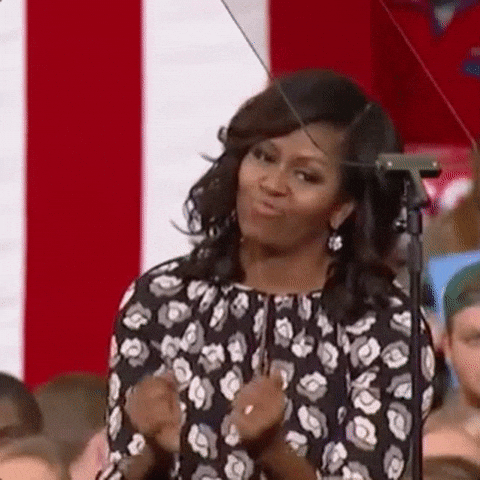 Michelle Obama, the wife of MY President, Barack Obama, is the perfect example of how a woman should be: strong, helpful, respectful, tastefully dressed and classy, but not afraid to be sassy. Since stepping foot in the White House in 2009, Mrs. Obama has been the most admired woman in the world, especially for African American women! While on her Becoming book tour, Michelle sold out many stadiums, and thousands flocked to meet & greet her after the event. Though millions of people love Mrs. Obama, many do not know her background and what she had to go through in order to be considered an admirable woman! Here are five reasons why Michelle Obama is the most admirable woman in the world:
1.) She didn't let her roots determine her future - Michelle Obama always mentions that she grew up on the South Side of Chicago, in a small home where her parents rented the upper level from Michelle's great-aunt. She grew up in a traditional family, with a working father, stay at home mother, and a brother close to her age. Her family was very close to each, making monopoly a regular activity in their household. At a young age, it was known that Michelle was very intelligent, both her brother, Craig, and Michelle skipped the second grade, and later on she was selected to attend Chicago's first magnet school, Whitney Young High School. As she matriculated through high school, she stayed on the honor roll, took several advanced placement (AP) courses, was a member of the student council, and graduation as the salutatorian of her graduating class. Part of the reason why Michelle was so successful in school was because of the motivation from her father. Unfortunately, he suffered from multiple sclerosis, which affected Michelle emotionally while she was growing up. She just wanted to ensure that she was getting grades and staying out of trouble to keep her father happy.
2.) She pushes through when she faces obstacles - Michelle Obama, Michelle Robinson at the time, enrolled in Princeton University in 1981, and felt quite overwhelmed, stressed, and like an outsider on her own campus. Despite the challenges, Michelle found positive outlets, such as the Third World Center, where she ran the day care program, and provided after school tutoring sessions. This is where her love for giving back started, and only grew stronger as time progressed. Another obstacle that Michelle faced was overcoming the pain of having a miscarriage. A while after her marriage to Barack Obama in 1992, she suffered from a miscarriage, which is hard to overcome! Thankfully, she was able to conceive two children later on: Malia and Natasha Obama. Raising two daughters and being married to an ambitious politician wasn't easy, both Michelle and Barack have written about the complications their marriage faced while Barack was running for President in 2008.
3.) She still gives back - Michelle Obama created four initiatives while her husband was in office: Let's Move!, Let Girls Learn, Reach Higher, and Joining Forces. The most popular initiative was Let's Move! which had the purpose of reducing the growing obesity rates of children. This initiative encourages young people to exercise and eat nutritional food, which has been implemented in various public schools, now serving healthier food options at schools. Even though she is no longer in the White House, she still works with Let's Move! and created the Obama Foundation, with her husband,
4.) Her style is unmatched: Even during Barack Obama's campaigning days, Michelle was always dressed to the T, showing class, style, and trendiness, everyday. She wasn't afraid to try different colors, prints, or textures, which is why she is considered the best dressed First Lady in America's history. Pictures explain better than words, enjoy the pictures below of Michelle Obama and her amazing style.